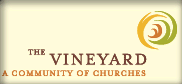 There are approximately 1600 Vineyard churches worldwide. The vineyardusa.org website can connect you to these churches as well as to information about the Vineyard movement. Whether you are exploring the Vineyard or are a member of a Vineyard church, the website is designed to help you find the information and resources for which you are looking.

From the Church, For the Church – Vineyard Music is a non-profit, church-based worship ministry. By imparting the heart and activity of worship through music, events, and resources, we encourage people everywhere to pursue a deeper relationship with God.

KingdomRain.net is a FREE website, designed to Equip, Educate, and Encourage all of God's people.
Vineyard Churches in Texas:
Grace Vineyard (Arlington)
Capital Vineyard (Austin)
Vineyard Christian Fellowship (Austin)
Living Waters Vineyard Church (Bay City)
Trinity Vineyard Community Church (Borger)
Vineyard Church (Brenham)
Vineyard Community Church (El Paso)
Vineyard Crossroads Church (El Paso)
Vineyard Church of Houston (Houston)
The Vineyard Church of Sugar Land (Stafford)
Vineyard Christian Fellowship (Kingwood)
Brazosport Vineyard Church (Lake Jackson)
River City Vineyard Community Church (New Braunfels)
Vineyard (Odessa)
Pearland Vineyard Church (Pearland)
Harbor Point Community Church (Plano)
New Horizon Vineyard (Rowlett)
Vineyard Church (San Antonio)
Vineyard Christian Fellowship (Temple)
Tyler Vineyard (Tyler)
Vineyard Church (Webster)
VCF (Spring)
Vista Ridge Vineyard (Lewisville)
Vineyard of Grace Church (Keller)
Trinity Vineyard Fellowship (Ft Worth)